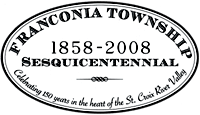 Meetings are held on the 2nd Tuesday of each month, at the Town Hall at 7:00 pm

---

Elections are held on the 2nd Tuesday every March (Minnesota Statute 205.075).

Town Supervisors are elected to serve a 3-year term. A three-year rotation establishes an election for one town supervisor each March.

Town Clerks are elected to serve a 2-year term and are elected in the even year election cycle.
TOWN BOARD MEMBERS & CONTACT INFO

1 = Elected Official
2 = Appointed
3 = Voting Member

---
Regular Town Board meetings are scheduled at the first regular scheduled meeting following the election. Current regular meetings are held by the Town Board of Supervisors once a month on the 2nd Tuesday each month. Meetings begin at 7:00pm and are open to the public.

Special meetings will be posted at locations designated by the electors at the March Annual meeting. Current postings of special meetings are made at the Town Hall, the corner of Franconia Trail and Redwing Ave, and the Chisago County Press.

Additional meetings attended by one or more Supervisors include:
| | |
| --- | --- |
| Monthly: | Chisago County Township Association |
| Periodic: | |
| Quarterly: | Shafer/Franconia Fire |
| | |
| Equalization Meeting: | |
| Annual Road Tour: | . |